Reduced plan exam appointments for Alteration Type 1 applications.
As experienced contractors know, a major alteration application, which constitutes an enlargement of development, can sometimes receive as many objections as a New Building application (if not more).
It is with these applications that the plan examiner spends as much time as they can in one appointment, in an effort to remove as many objections as possible.
But with the new service update (pictured below), the examiner now has only 20 minutes to resolve those objections for the applicant.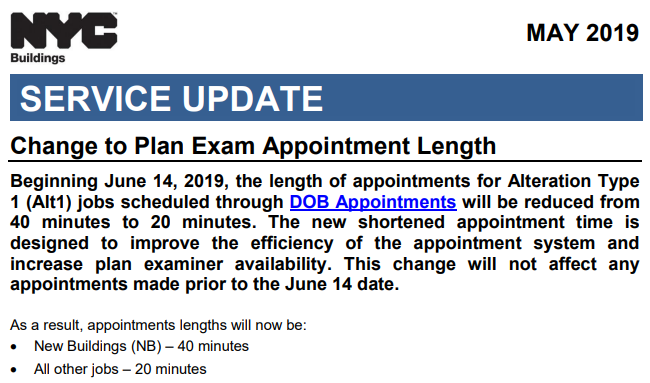 This update is part of the Building One City plan, which aims to standardize objections for various building application types in an effort to increase efficiency.
The plan also intends to hire over 150 new plan examiners, which is meant to balance out this reduced appointment time and improve the overall performance and service levels. As the saying goes, "Many hands make light work."
But, here's the thing.
Plan examiners are the city's code, zoning and procedural enforcement officials. They are the key personnel who decide whether to approve or disapprove your alteration or new development application.
With more examiners on hand, could shorter appointments actually increase efficiency? Maybe. But for applicants, it may also mean not all objections get absolved in one sitting. The resulting back-and-forth of approvals could delay a project for weeks, if not months, or even lead to a complete redesign in an effort to stay on schedule.
Applicants can prepare for this, and potentially reduce the number of appointments, by talking to a building consultant. A little planning up front with a consultant can save time and money by identifying potential objections in advance and providing strategies to reduce them before ever facing the examiner.
This way, many hands can make light work for applicants too.
If you have any questions or wish to speak to one of our consultants about your project, please feel free to reach out by phone, or email us at contact@outsourceconsultants.com.
Resources