New York City is eternally under construction. This is a fact of city life that both benefits and burdens its residents. As buildings rise to greater heights, scaffolding, construction fences, and sidewalk sheds litter the streets below. The ugliness of construction is something that many urban residents have come to accept, but in the past few years, the City Canvas initiative has been working to create beauty in these unexpected places.
City Canvas, launched in October 2019, was established jointly by the Department of Cultural Affairs, the Department of Buildings, and the Office of the Mayor. The program allows cultural organizations and artists to display their work on temporary protective structures, in the hopes of transforming construction sites into works of art.
While the main goal of this program is to beautify construction, City Canvas also aims to spotlight local artists and display work that is relevant to the surrounding community. By obscuring architecture, construction can diminish a neighborhood's visual identity, but the art installations create artistic expression out of eyesores.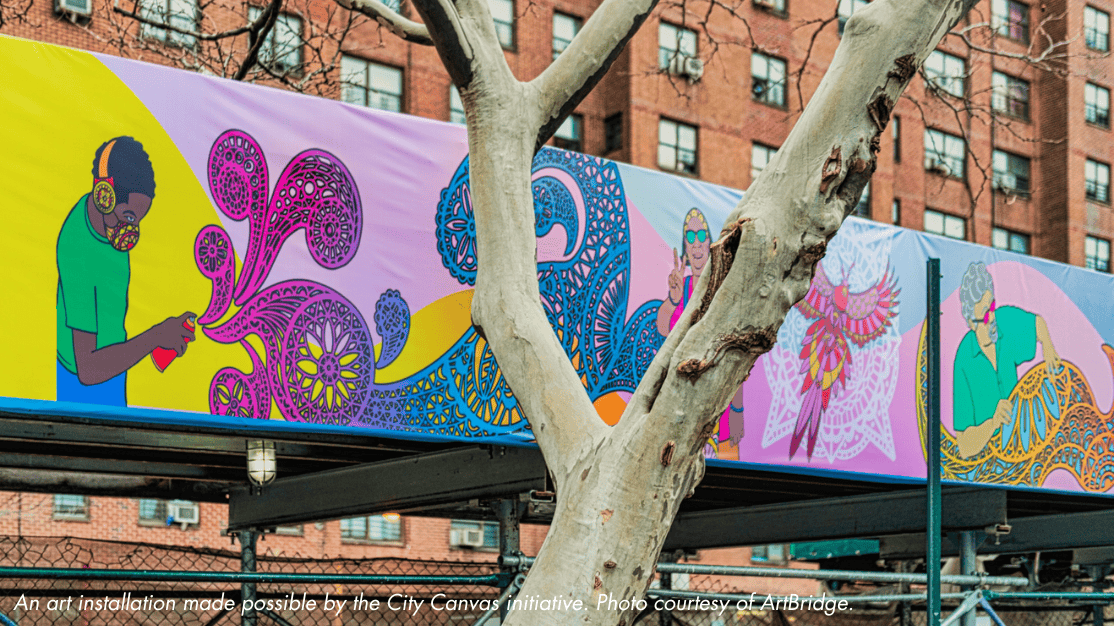 "New York City is one of the most vibrant built environments in the world and City Canvas is a great opportunity to let some of the artists working in our neighborhoods help to enliven and enhance our public spaces," said Tom Finkelpearl, Commissioner of Cultural Affairs, in a press release statement from the program's launch. "Thanks to our partners at DOB and the Mayor's Office, we're excited to launch this pilot initiative exploring ways we can transform our sidewalk sheds and construction fences into canvases for local artists."
After the success of its 24-month pilot stage, the DOB proposed Local Law 163 in 2021, which would elevate City Canvas from an experimental project to a city-wide requirement. Effective September 1, all property owners of construction sites in NYC will be required to install artwork on temporary protective structures, unless they choose to opt out. All artwork will be selected by the owner of the property, but nonprofits will provide the full funding for producing and installing the works. As long as the artwork meets the city's requirements, this new law will allow building owners to participate in a radical transformation of New York streets.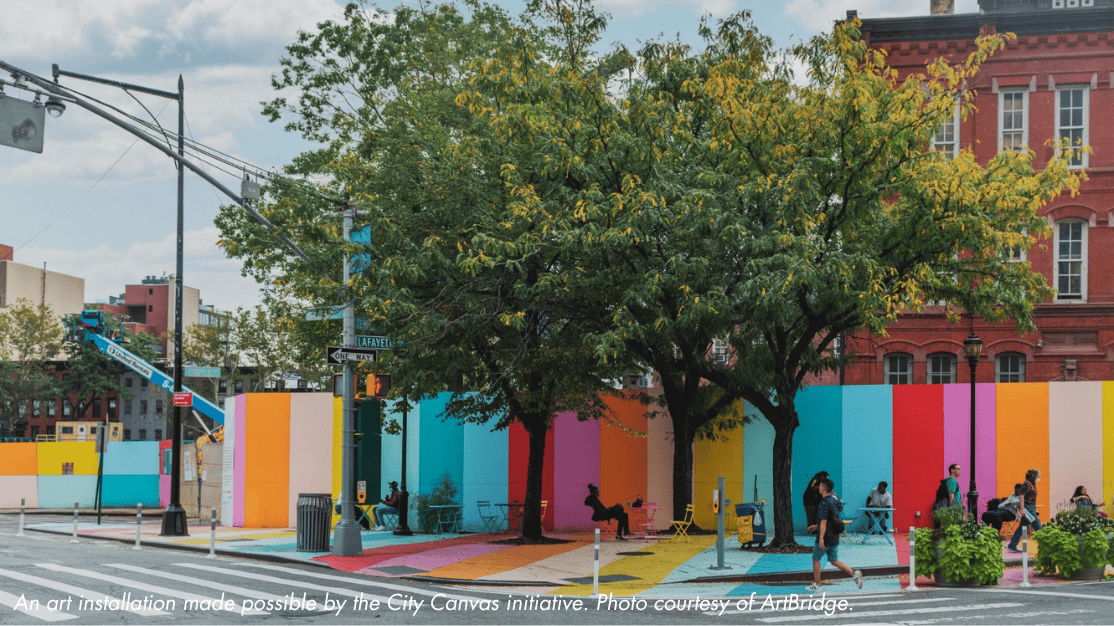 This decision presents a more human-centered approach to urban planning for the city's future. Construction is a necessary element of progress, so why not make it beautiful as well as necessary? Projects such as these represent stepping stones toward a colorful, innovative future — for pedestrians and building owners alike.
If a property owner wishes to opt out of the requirement, they may do so while filling out the Owner's Attestation on DOB NOW. However, city-owned properties and properties receiving capital funding may not be eligible to opt out.
For more information about the specifics of Local Law 163, see the sources below or contact Outsource Consultants, Inc. for professional assistance.
Resources