Quick answer: It depends.
Local Law 152 refers to a 2016 law requiring periodic inspections for gas piping systems. While the law was originally meant to go into effect in January 2019, further revisions meant the finalized version of the law went into effect January 1, 2020.
The law requires all buildings (except for those in Occupancy Group R-3, covering single- and two-family buildings) have their gas piping systems inspected by a Licensed Master Plumber (LMP), like The PAR Group based in the New York Metro Area (also serving New Jersey), at least once every four years.
Even if your building does not have a gas piping system, you still need to file an inspection certification form, signed and sealed by a registered design professional, that states this fact for the record, and resubmit it every four years.
But that doesn't mean your first inspection has to be scheduled before the end of 2020! LL152 has broken up the scheduling by community districts, as follows: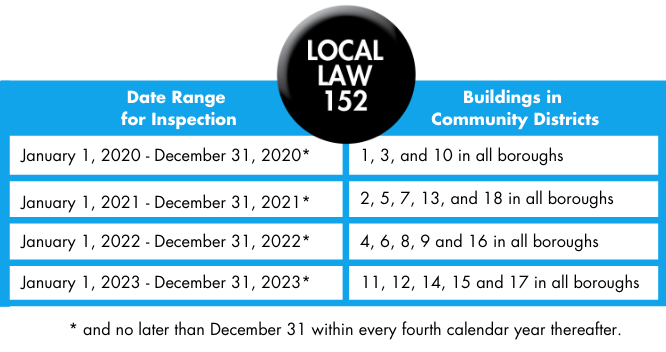 So, you'll need your building's gas piping system inspected and certified by the end of 2020 only if your building is in community district 1, 3 or 10 of any borough. Otherwise, plan on scheduling an inspection in whichever year applies for your district. The cycle will start again every four years.
To check, please refer to NYC Community Districts to confirm which applies for your building.
Here's how the process breaks down:
Building owner schedules an inspection with an LMP.
LMP provides the owner a Gas Piping System Periodic Inspection Report (GPS1), stating inspection results, within 30 days of inspection date. Unsafe or hazardous conditions must be reported to the building owner, gas service utility company, and DOB.
Owner submits Gas Piping System Periodic Inspection Certification (GPS2) signed and sealed by the LMP who conducted or supervised the inspection through the portal on the DOB website.
If issues were found during inspection, building owners should resolve them within 120 days from date of inspection, though an additional 60 days can be requested for major issues.
Building managers will need to make sure to schedule the inspection with an LMP and file the inspection certification on the DOB website before December 31 of the appropriate year. Otherwise, there is a $10,000 fine.
The PAR Group, New York's premier provider of plumbing, HVAC, fire protection and green services, takes a tactical approach to Local Law 152 inspections by employing a formula that considers the number of meters, feet of exposed pipe, number of mechanical rooms, laundry rooms and kitchens, overall building size and number of floors where gas is utilized. Email compliance@pargroup.com or call Kristy Nilson 516.315.2698 or Lisa Guaragna 516.315.3466 today for an estimate.